MASV Lowers Prices, Raises Security Profile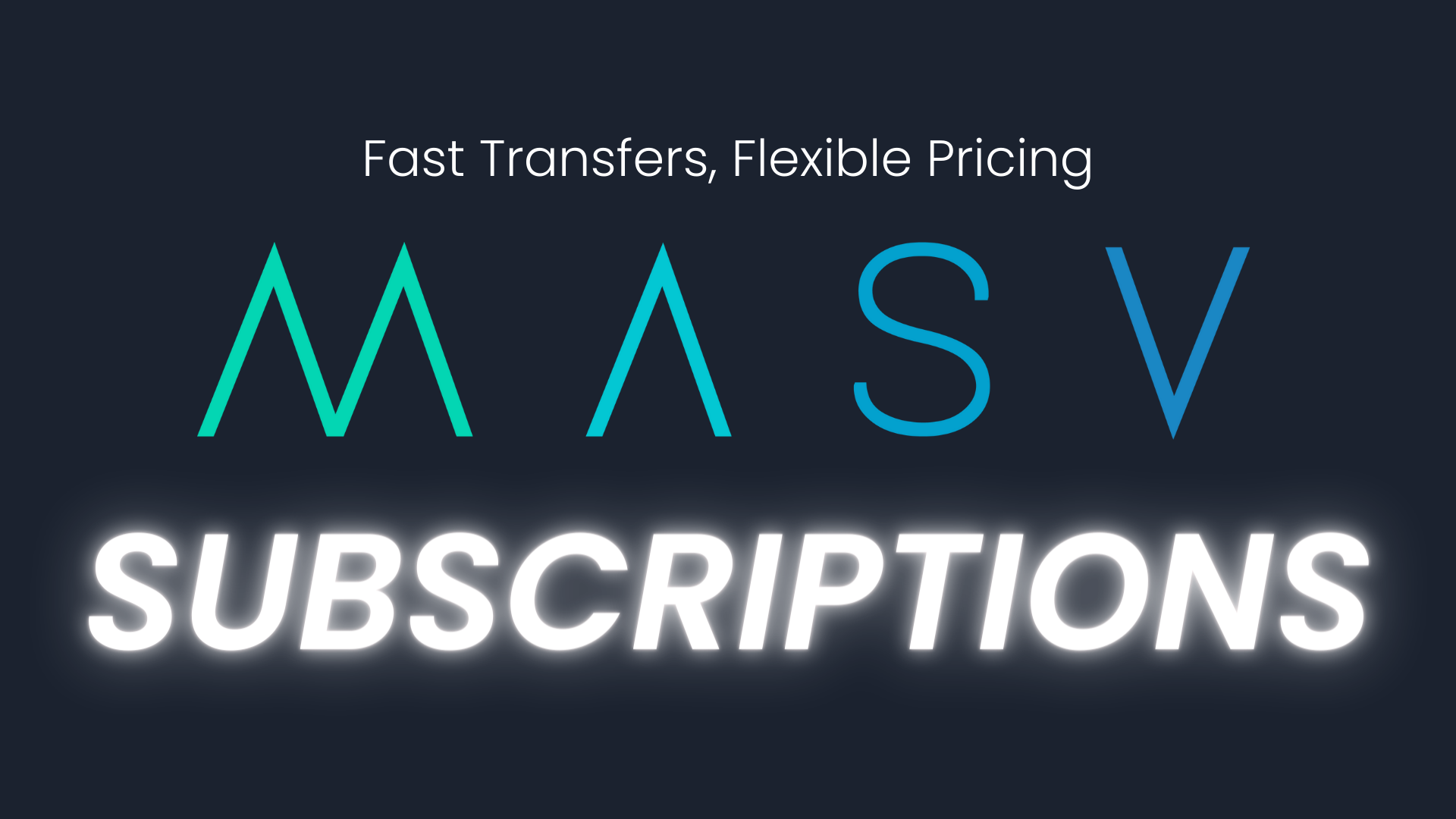 20% Price Reduction, SOC2 Compliance & New Enterprise Options Drives Value For Remote & Virtual Production
May 9, 2023 – New York, NY & London, UK – MASV (massive.io), the fastest file transfer service for massive (20GB+) files, today announced lower prices, new enterprise plans and compliance with SOC2 Type II.
Through a new membership plan, MASV Professional, Media and Entertainment-oriented MASV is lowering prices at a time when legacy MFT (Managed File Transfer) vendors are raising prices and fighting serious security concerns.
"In an economy where the price of everything is going up, and other video transfer businesses are charging more, MASV is charging less," said Greg Wood, CEO of MASV. "Our new MASV Professional membership cuts our best customers' costs by 20%. MASV is capable of sending and receiving an unlimited volume of content. Through our enterprise, volume and proven Pay-As-You-Go plans MASV is positioned to serve the ingest and delivery needs of every video professional no matter how large their organizations or files."
Designed for customers who use MASV frequently, the new $40 USD MASV Professional Membership provides 200GB of the fastest file transfer in the world while retaining MASV's no-limits philosophy. Egress data over 200GB each month is billed on a flexible usage-based discounted plan of just $0.20/GB. All MASV Professional plans include unlimited users at no additional cost.
Every plan can send and receive an unlimited volume of content at consistently fast speeds and exceptional reliability. Larger volume plans, from a few terabytes through petabyte scale, are available via self-service plans on massive.io.
All plans include powerful MASV-exclusive transfer tools, including 10+Gbps performance optimization, MASV Multiconnect bonded internet, MASV Desktop apps (Mac/Win/Linux), the MASV open API and Javascript uploader and more. Customers will continue to benefit from MASV's exceptional ability to fully saturate available bandwidth.

MASV offers high-volume data transfer packages including:
Volume Pricing – Whether sending Terabytes or Petabytes, MASV volume pricing allows you to pay a lot less when you use a lot more. Available now in all custom plans.
Prepaid Credits – Launched in 2022, MASV pre-paid credits have proven very popular. Buy these in-app on an as-needed basis or, for exceptionally high volume usage, via Team@masv.io.
Enterprise Plans – MASV is today announcing SOC2 Type II compliance. A key indicator of enterprise security readiness, SOC2 conveys our commitment to security, privacy and the protection of your content and business. Security concerns among last-generation on-premises Managed File Transfer solutions have never been higher. MASV can help. MASV now offers enterprise pricing, SSO, Custom Metadata and far-reaching professional services offerings, all available via team@masv.io
SOC2 is the latest attestation of MASV's security commitment. MASV also has previously announced ISO27001 and TPN, with HIPAA coming soon.
MASV memberships and flexible pricing are available today for all users around the world. MASV Web and Desktop apps are available in English, French, Spanish, German, Dutch and Japanese.
No matter what plan video professionals choose, MASV delivers fast speeds, reliability and secure transfers–guaranteed, or your money back.
Plans are available from massive.io or on AWS Marketplace.
Meet MASV Live
Meet MASV in May! MASV will be in New York, NY at the 2023 SVG Sports Cloud Production Forum and London, UK at the 2023 Media Production Trade Show. Show specials available. Connect with Team MASV live by emailing team@masv.io.
Quick Links
About MASV
Low-code cloud transfer service MASV is a faster, better way to send and receive massive (20GB+) files. Easily transfer massive files to anyone, anywhere in the world. Trusted by media and entertainment organizations across the globe, MASV plays an important role in thousands of production workflows. To learn more and try MASV for free, visit massive.io.
Contact:
Anna Mroczkowski
anna@masv.io
1-613-900-5300 ext 5
Source link