Satirical New Book Holds Mirror Up to Creative Industries Socio-economic Diversity Problem To Drive Change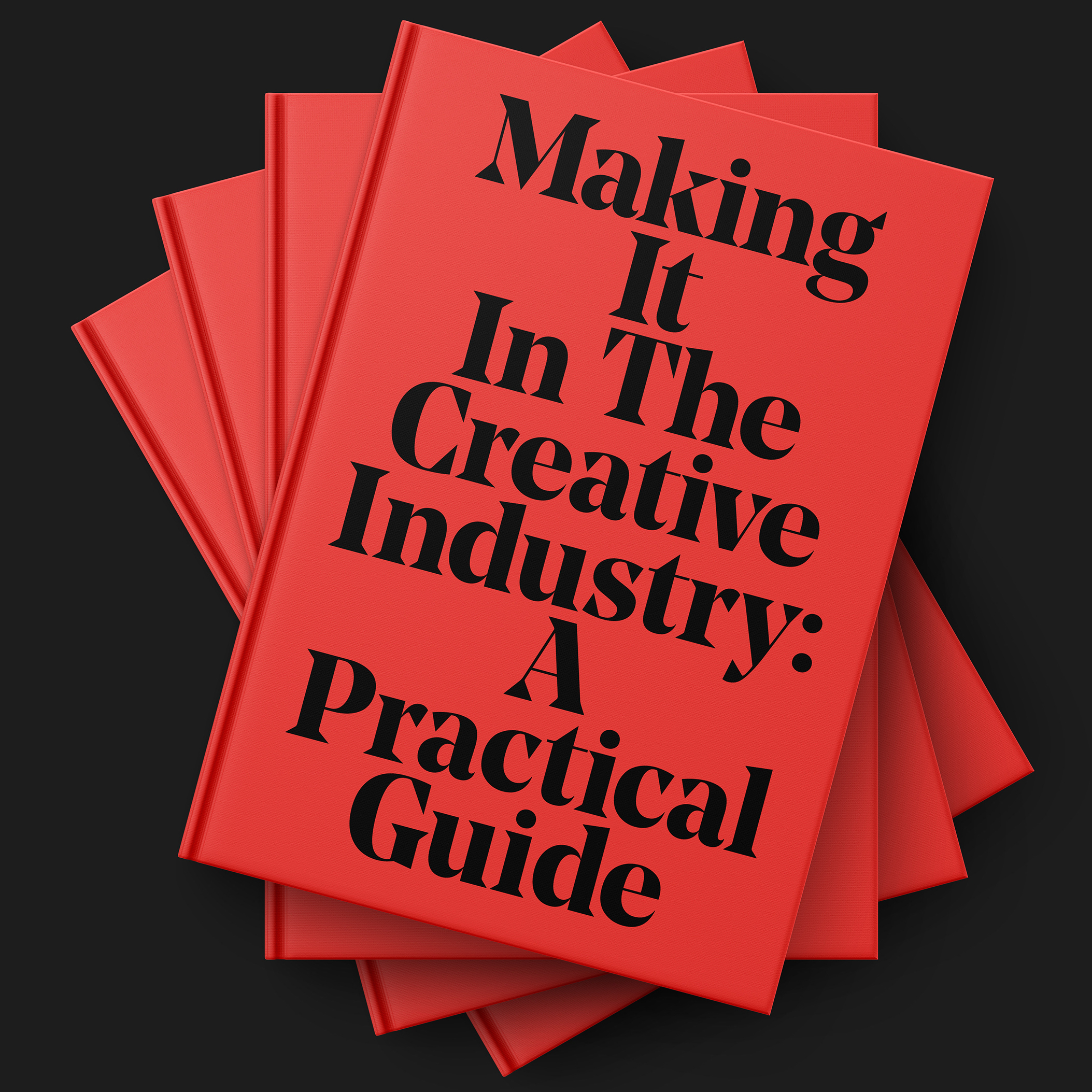 London, Tuesday May 16, 2023 – Creative Mentor Network (CMN) the UK charity with a mission to make the creative industries more socio-economically diverse and inclusive, has partnered with creative agency AnalogFolk to launch Making It In The Creative Industry: A Practical Guide, a 60-page satirical manual highlighting the multiple barriers that young people from low socioeconomic backgrounds face when trying to get a job and succeed in the creative industry. The book's tongue-in-cheek advice is accompanied by hard-hitting statistics and illustrations by award-winning artist Toby Leigh (Tobatron), with a clear CTA to help drive change through mentorship.
The proportion of people from lower socio-economic backgrounds working in the creative industry has more than halved since the 1970s, falling from 16.4% to just 7.9%1.
Creative Mentor Network has published the book to hold a mirror up to the creative industry – inclusive of all sectors2 – addressing the sad reality of how a certain section of society have been able to get their foot in the door and make their way, while other young people have been prevented. Creative Mentor Network is working to change this, so it's simply a person's talent that matters rather than who they know, where they live and the privileges they can afford.
Making It In The Creative Industry: A Practical Guide is a call-to-arms for the creative industry to become more accessible and inclusive and provides a way to do so. Through its mentoring programmes, Creative Mentor Network pairs creative professionals with young people from lower socio-economic backgrounds looking to get into the creative industry. The organisation has distributed 250 limited edition copies of the book to key figures across the creative industry to encourage them to become Creative Mentor Network mentors.
The tongue-in-cheek book includes ingrained practices and attitudes such as:
In the unlikely event that you have the same regional accent as someone else in the office, pick a different one. A 'normal' one. There can't be two, 'the northern ones'. It just doesn't work. Accompanied by the fact; in a study, 76% of employers admitted discriminating against candidates based on their accent due to class-based assumptions.
Every word, every image and every thought is at least 20% more creative by virtue of having been created on a Mac. So take out a small-to-medium loan at a competitive interest rate and get yourself one*. If you use a PC, people will spit on your shoes. And rightly so. *Ensure that it's updated to the latest operating system – macOS Cannes.
There is a good reason why imposter syndrome is so common among people from lower socio-economic backgrounds: the creative industry is silly and everything is made up. Literally no-one knows what they're doing, but some people are more comfortable pretending they do. To fit in, live with debilitating self-doubt inwardly, but emit boisterous arrogance outwardly. Accompanied by the fact University students from lower socio-economic backgrounds are often the first in their families to attend university. They often feel out of place and lack the time and money to engage with other students.
Katie Thomson-Greene, Managing Director, Creative Mentor Network says: "Whilst some people may be able to laugh at themselves, we understand this book may challenge people's perspectives and make them feel uncomfortable. If that's the case, it highlights that change needs to happen more. For too long, the industry has been dominated by people from higher socioeconomic backgrounds who have not faced the same barriers as those from less privileged backgrounds. From unpaid internships, network-driven recruitment and even awareness of the jobs that exist, there are too many invisible barriers that many people don't think about but are making it even harder for the young creatives in our community. Our hope is that this book will shed light on these barriers and inspire individuals and businesses to take action towards creating a more diverse and inclusive industry. We envision an industry that values individuality, creativity, and skill above nepotism and homogeneity. This book is a call to action for anyone who shares that vision."
Colin Byrne, Regional Executive Creative Director, Europe at digital creative agency AnalogFolk says: "Creative industries can and should reflect our cultural landscape and the communities we live in. There's a hotbed of undiscovered talent out there that's not getting a look in or being considered properly. The talent is losing out, the creative community is losing out and we are doing a disservice to the people we're creating for. That's why we're so proud to work with Creative Mentor Network to highlight the importance of driving change and creating a more inclusive and accessible industry for everyone."
Trevor Johnson, Head of Marketing, GBS, EUI at TikTok says: "This book is a helpful step towards breaking down the barriers that have hindered the progress of aspiring young talents from low socio-economic backgrounds. Working with Creative Mentor Network in the past, I've seen the incredible impact their mentoring programs have had on young creatives. By providing guidance and support, we have the power to unlock the untapped potential of these aspiring artists, designers, and innovators. It's not just about changing lives; it's about transforming our industry for the better."
See notes to editors for more quotes about CMN's mentor programme.
Creative Mentor Network currently work with a range of partners across the creative industry, including advertising companies like AnalogFolk, MullenLowe and Bulletproof, media companies like Sony Music UK, amazon Prime Video and The Jamie Oliver Group, to broader areas like Soho House, The APA and Meta.
The book Making It In The Creative Industry: A Practical Guide is available for purchase on the Creative Mentor Network website, along with more information, from Tuesday 16th May. Creative Mentor Network will be running a limited edition giveaway of the book across their social channels. Visit www.creativementornetwork.org to learn more and to sign up for a mentoring program.
ENDS
Notes to editors
1https://www.manchester.ac.uk/discover/news/lack-of-social-mobility-in-creative-jobs-has-remained-the-same-since-the-1970s-in-the-uk-this-has-serious-implications-for-the-future-of-the-creative-industries/
2Creative industries include advertising and marketing; fashion and textiles; music; film and tv; tech and digital; architecture and design; art and culture; journalism and broadcasting; and publishing.
Quotes
"All of the training was really informative and I loved taking part. I learnt so much and a lot was really eye opening. It's made me want to make a conscious decision to be more inclusive whenever possible and to try and encourage others to do the same." (Tim Fellowes, Designer, Google Creative Lab)
"What sets this programme apart are the mentees – they truly are the future of the creative industry and we need to do our part to guide and coach them to help boost their confidence and further drive their goals and passion for the industry." (Lisa Lugo, SVP, Marketing & Creative Solutions, Live Nation UK)
"I felt incredibly supported by Creative Mentor Network. The training and mentoring was very well run and I was really well matched to my mentee." (Daisy Clayton, Artist)
Contact:
Creative Mentor Network: Miles Zilesnick / miles@creativementornetwork.org / 07792 126 482
AnalogFolk: Natalie Melder-Smith natalie.melder-smith@analogfolk.com / 07818 457 635
About Creative Mentor Network
Creative Mentor Network is a UK charity founded in 2014. Our vision is for a day when the creative industries are more accessible and inclusive so that a person's socioeconomic background doesn't hold them back.
Creative Mentor Network run mentoring programmes, matching young people from lower socio-economic backgrounds with creatives already within the industry. Mentors receive a minimum of 8 hours of training to ensure they are set up to support the young people they are matched with, and to provide them with the necessary skills to be an inclusive mentor, coach and leader.
Over the last nine years, Creative Mentor Network has matched over 1,500 mentoring pairs and worked with companies from across the creative industries. They were recently nominated for a Business Charity Award with their partner Sony Music UK for their Positive Influence mentoring programme.
For more information visit www.creativementornetwork.org, follow us on Instagram and LinkedIn @creativementornetwork, or on Twitter @CMNetwork_
Creative Mentor Network is a Registered Charitable Incorporated Organisation 1178144.
About AnalogFolk
AnalogFolk is a global digital creative agency that's been independently owned since 2008.
Our mission is to use digital technology to make the analog world better. AnalogFolk's AI tool BigUp.Ai is a Fast Company World Changing Idea Honouree. The not-for-profit tool encourages women to self-promote with confidence by using more impactful language. In 2022 AnalogFolk launched multi award-winning The Truth, Undressed, the UK iteration of Vagina Academy, the global boundary-pushing education at scale brand purpose platform created in partnership with Canesten, Bayer Consumer Health. In 2022, AnalogFolk was recognised as Contagious Pioneers 'Best and Bravest Agencies on the Planet'; and in 2020 was awarded Global Digital Innovation Agency of the Year by Campaign magazine.
AnalogFolk has offices in London, Amsterdam, New York, Hong Kong and Sydney partnering with brands including HSBC, Nike, Diageo, Beats by Dre, Foot Locker, Unilever, L'Oreal, Bayer and Netflix.
For more information, visit us at www.analogfolk.com or follow AnalogFolk on Twitter,
Instagram or LinkedIn @AnalogFolk.
AnalogFolk is a part of AnalogFolk Group (AFG)
Source link