'Live Your Bucket List' – 2023's Stand Out Personal Development Book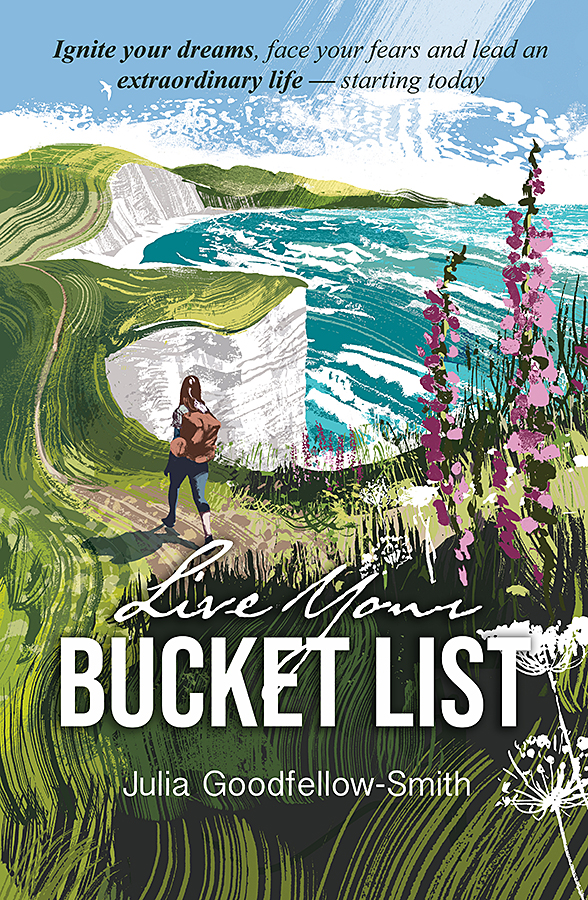 Live Your Bucket List – 2023's Stand Out Personal Development Book –Bucket List Adventurer Shares the Ultimate Guide to Leading an Extraordinary Life
Already a Kindle eBook 'amazon Bestseller' and No 1. 'Bestseller in Western Europe Travel,' Live your Bucket List has proved immensely popular — and for good reason. The newly published and definitive 'how to' book, Live your Bucket List details Julia Goodfellow-Smith's step-by-step process to planning, mitigating obstacles and successfully putting into play your own Bucket List adventures.
Media Contact:
Tony Bowerman
Email: tony.bowerman@icloud.com
FOR IMMEDIATE RELEASE
UNITED KINGDOM – A transformative read for all those with a bucket list of places to see, skills to learn and cultures to experience; author and bucket list supremo, Julia Goodfellow-Smith, offers all the help needed to get off your life dreams off the starting blocks.
Detailing the methodology she invented to bring her own bucket list plans to fruition, each stage of her process is illustrated with insightful stories of her personal journey, and includes details of how to plan, her triumphs and most importantly, the rookie mistakes to avoid.
Re-published on 1st November 2023, this part travelogue, part self-improvement manual, bursts with life-changing potential. And with Christmas just around the corner, a copy of Live Your Bucket List makes a considered gift for all those who 'have everything,' putting them firmly in the drivers' seat to living a life of adventure.
Synopsis:
Whether you want to learn Chinese, run a marathon, or watch the sunrise over the Pacific, most people have a bucket list. Live Your Bucket List guides readers through a proven process, developed and honed over many years, to take them from dream to achieving.
Live Your Bucket List uses the author's personal experiences to provide insight into achieving a specific bucket list dream.
Instead of reinventing the wheel, readers can learn from Julia's mistakes and triumphs to make their own bucket list adventure the best possible success.
The author says:
"At the age of 50, I decided it was time to lead a more adventurous life and share what I learnt with others to help them do the same.
​
"Since then, I have walked the Malvern Hills dressed as a jellyfish for charity, walked the Southwest Coast Path, cycled King Alfred's Way and walked the Camino de Santiago – twice. I also have some unfinished business with Offa's Dyke, which I had to stop walking because my feet were so badly blistered… lessons learnt!
"My adventures will appeal to people who like the idea of introducing an element of excitement into their lives. They will be adventures that other people, including women in their 50's like me, can imagine being able to do with a little bit of time and encouragement."
Praise of the first edition of Live Your Bucket List includes:
"Upbeat, practical and sympathetically written, this book will have you making bold plans by the end of the first chapter." – WI Life Book Club
"Excellent, very useful… most enjoyable… written in a friendly way that doesn't preach." – Strider Magazine – Long Distance Walkers Association
"This inspiring step by step guide will help everyone turn their dream into reality. A very timely book for all those wanting to have the adventure of their life." – Lisa Drew – author of Islandeering
And five-star amazon reviews say:
"A really inspiring, beautifully simple book that has motivated me to start ticking off my own bucket list !
I loved how the author broke the process down into an easy to digest, step by step process, using her own experience of walking the southwest coast path to practically demonstrate how us as readers can do the same with our bucket list items. Despite this, my favourite part of the book is how it made me realise that any regular, ordinary person can start completing their bucket list, that you don't have to wait until the 'right' time, because the 'right' time can be now when you use the methods in this book to guide you through the process.
Can't recommend this enough for anyone of any age who is feeling stuck or bored and wants to start an adventure, however big or small that adventure may be." – Ella
"I would highly recommend this for anyone planning a once-in-a-lifetime adventure. It will help you to avoid all the potential mistakes that might otherwise be made. The author takes you through the preparation process, not as a distant expert, but as a well-informed friend whom you can trust because of her obvious genuineness. But this book is so much more than a self-help book for someone with a bucket list crying out to be heard. It is also an evocative and beautifully written reflection on the adventure itself. So don't be surprised if you are packing your bags for a coastal walk even before you come to the last page of this remarkable book." – Geoffrey Richardson
"I could not put this book down, I devoured every word. I have been procrastinating for the past 3 years about retiring early and buying a motor home with whatever measly private pension I have and going off travelling with my lovely dogs. Financial worry has always been the only barrier. After reading Julia's book I have decided to take the plunge and do it! I am now following Julia's financial advice for women and will be incorporating that into my 18 month plan to escape my stressful job." – Christine Curtis
Published on 1st November 2023 by Northern Eye Books, Live Your Bucket List is available to pre-order in paperback (ISBN No: 978-1-914589-16-4) priced £10.99 on amazon at https://tinyurl.com/2ptyf4wk
It is also available to purchase on the publisher's website
About the author:
Julia Goodfellow-Smith is an author and adventurer who lives in South Wales. An ordinary person who is doing something extraordinary — living her bucket List – Julia would like to help others do the same, which is why she is writing the Live Your Bucket List series of books.
She has held a variety of management and consultancy roles in a range of sectors including conservation volunteering, banking and construction. She is currently focusing her attention on adventure, writing and presenting.
Julia and her husband Mike have recently achieved their bucket list dream to live by the sea, where they walk on the beach every day, whatever the weather!
Julia is a Rotarian and a Senator of Junior Chamber International (JCI). She is also a member and secretary of the Outdoor Writers and Photographers Guild.
Social Media links:
Instagram: @juliagsauthorspeaker
Facebook: @juliagsauthor
Source link